Products
The OXEMS Solution is a fully integrated, cloud-based, end-to-end OXEMS Smart Asset Management System as shown in the image. The System comprises: OXEMS Tags, OXEMS App, OXEMS Detector and a suite of integrated cloud-based tools to access vital utility assets, anytime and anywhere, using both the OXEMS App and the Internet-based tool chain, the OXEMS Database.
Using the OXEMS system
Using the OXEMS System involves different processes:

1) Tag attachment – typically undertaken by a contractor whenever a hole is dug and assets are discovered/laid e.g. rehabilitation schemes, new mains lay, repairs and maintenance etc. Requires only an OXEMS Tag.
2) Taking and uploading of photos and the recording of attribute data – Typically undertaken by a contractor at the time of deployment before excavations are backfilled. Requires only the OXEMS App.
3) Tag recording – Typically carried out by the OXEMS Service Partner using the full detector and App combination at any time after reinstatement. Requires both the OXEMS Detector and the OXEMS App.
4) Asset management – Typically carried out by both operational management of assets in the street (asset visibility) and strategic management from the office, using the full range of 'visibility' tools. Requires access to the OXEMS Database or OXEMS App.
5) Asset location – Asset (tag) location for R&M activities is provided as a service by an OXEMS Service Partner under agreed SLAs. Requires both the OXEMS Detector and OXEMS App.
6) Training and consultancy – to support implementation and rollout as required.
The OXEMS tag
OXEMS Tags are buried in the ground at key points on the assets themselves (the joints, ferrules, hazards and other points where leaks or breaks are most likely to occur) using simple cable ties. They require no on-site programming and are designed to last over 100 years making them very simple, quick and robust for use by gangs in the field. They are effectively enhanced multi-resonating markers which operate at depth in underwater conditions. By using different frequency combinations with the appropriate symbol on a tag we provide a limited range of different markers such as valves on water pipes, T's on water pipes, or joints on gas pipes etc. We call this RF-Barcode™ technology.
The longevity of OXEMS Tags is clearly of crucial importance when marking buried utility assets which is why their design includes critical and unique elements resulting in them having an expected life of over 100 years when buried in underwater conditions, an estimate which has been independently verified by a specialist lifetime testing organisation.

OXEMS Tags are real and able to notify their presence to an above-ground OXEMS Detector, guaranteeing pinpoint re-location
They are passive, with no integral power source or elements that will fail over time
They are attached to buried assets using standard plastic ties and are robustly designed to withstand the pressures of backfilling and compaction
No on-site programming is required - OXEMS Tags arrive on site ready to attach and with no programming needed in the field
They use patented RF technology initially pioneered at the University of Oxford and subsequently refined at OXEMS
They operate at multiple factory-set frequencies optimised for use with buried utilities - the result is OXEMS patented RF-Barcode™
This RF-Barcode™ technology enables accurate three-dimensional positioning identification in all ground conditions without the need to make adjustments for different soil types
OXEMS Tags overcome a problem of alternative tagging solutions whereby the reliability of data held is time-limited to substantially less than the lifetime of the asset (typically 10-15 years) - independent laboratory lifetime analysis has verified OXEMS Tags as having a working lifetime in excess of 100 years
The OXEMS app
The OXEMS App is used to:
a) Locate previously installed tags to within about 2 metres, or with pinpoint accuracy when used with the OXEMS Detector
b) Take photos and other data at the time of the asset installation for uploading to the OXEMS intelligent database
The OXEMS App is a dynamic interface that puts bi-directional information at users' fingertips, in the office and in the street, on a securely-managed granular basis. Available exclusively to OXEMS System users on a range of mobile devices, it enables users in the field or in the office, to call up any photographic and text information logged against specific tagged assets.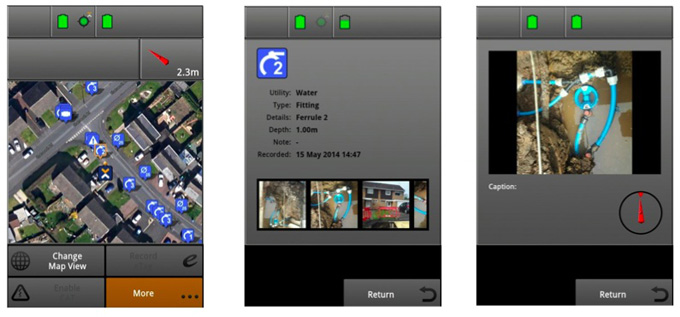 The dashboard provides an overview of the data held for specific tagged assets. The user is then able to explore different categories of information: for example, 'Find a Tag' in the street, and view the underground layout and orientation; or, for a re-located Tag, review its history; or, in the planning office, call up an area to help work out the optimum way to, for example, extend the network or add additional services in an existing area.
All information is stored in the cloud on the OXEMS Database and is available simultaneously to both operators in the street and users in the office.
Any amount of additional 'attribute' information such as the asset material or a pipe diameter can be automatically recorded using user defined drop down menu options. The full range of attributes is completely flexible and defined by clients on the OXEMS Database.
The OXEMS detector
The OXEMS Detector has been designed to optimise performance of the overall system. It is used to:
a) Register newly installed OXEMS Tags on the OXEMS Database
b) Re-locate OXEMS Tags for repair and maintenance work and to support fault tracing
Both of these activities are made available as services to OXEMS clients removing the need for high capital equipment outlay.
When used with the OXEMS App and moved over a surface, the OXEMS Detector detects, identifies and pinpoints OXEMS Tags in 3D. It can be used to automatically record details about the tag itself including its type, depth, estimated GPS location, who recorded it, when (day/time) and with which device. This information is then uploaded and stored on the OXEMS Database and onwards to individual utility GIS systems as required.
The detector is foldable so it fits into the back of a typical contractor van.
The OXEMS database
The OXEMS Database is the intelligent core of the OXEMS System. It stores and processes in real time information about OXEMS Tags deployed in the field, including precise 3D location (x, y and z co-ordinates), asset type, job reference, recording user and any additional data and photographs.
Data stored on the OXEMS Database is automatically available in real time to users in the street (via the OXEMS App) and in the office (anytime, anywhere). When mobile communications are poor data can be transferred as required using secure WiFi communications meaning the user really does have access to all their data in real time, wherever they are, and whenever they need it.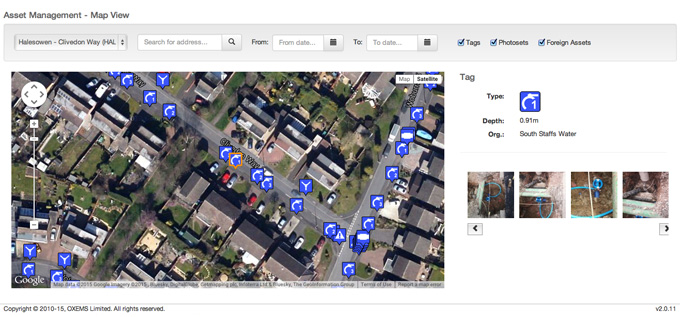 A typical map screen from the OXEMS Database showing tags in the street with details of one tag displayed to the right of the map (highlighted in the centre of the map)
Initial registration of a newly fitted OXEMS Tag is collected in the field by the OXEMS Detector and uploaded to the OXEMS Database using the OXEMS App where it is automatically combined with any previously uploaded information or photographs for that tag. This data can then be integrated directly with existing GIS or other systems as required to provide a rich and integrated data source from day one. By making full use of the 2-way flow of data it now becomes practical to deliver comprehensive real time information to the field including full asset histories and maintenance records as well as physical information about the location and type of asset itself.
Access to the cloud based OXEMS Database is controlled using the latest advanced security techniques to prevent unlawful or accidental data use. Data table and graphical interface design allows flexible interrogation according to user needs with simple setting up of user dashboards and real time data access for full asset management. Quality management features ensure easy monitoring of workmanship to identify quality or working practice issues.