Smart
Welcome to the world of smart asset management where underground network visibility really becomes reality. This is the OXEMS future where utilities, contractors and private estate managers make buried pipes and conduits smart so they can benefit from:
Real below-ground visibility of all assets
Easy re-location of points of interest on assets, with absolute precision
Accidental strike avoidance
Reduced background leakage (water utilities)
A new gold standard for as-laid drawings
An ever-expanding asset register to inform strategic planning decisions
These benefits, and more, are proven to contribute to:
Better job performance and quality assurance
Improved safety outcomes
Better customer service
Increased sustainability
Cost reductions and rapid ROI
In our 'always on, always aware, always active' world where we are able to give more and more objects 'intelligence' and BIM (Building Information Modelling) is a part of the everyday built-environment vocabulary, it's makes sense to build comprehensive maps and databases of valuable assets that are vital to our day to day lives yet invisible to us.
For a long time, the only way to record the locations of underground assets was via as-laid drawings. These may have sufficed when there were relatively few underground pipes and conduits, but they simply aren't reliable enough now. With water, gas, power, telecommunications and other networks proliferating beneath our streets, we need the better, smarter performance. With the OXEMS System we solve this: enable real and accurate below-ground visibility of assets, easily and precisely re-locate points of interest on those assets, avoid accidental strikes, and achieve a new gold standard for as-laid drawings.
Empowering utilities
The OXEMS System delivers precise knowledge about underground utility assets, anytime, anywhere. By automatically collecting and using data in whatever format you need it will improve your asset performance by minimising street works, improving quality, increasing customer satisfaction, and much more, to achieve rapid ROI. In water it has even been shown to help address the issues with background leakage – zero leakage is a realistic goal. Secure access to information is simple with the OXEMS App running on the latest Smartphones or via any PC with access to the web.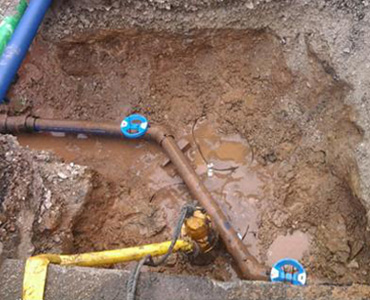 By knowing precisely where 'dog-legs' like this are, usually when they are not marked on drawings, utilities can ensure excavations are made with pinpoint accuracy to the benefit of all involved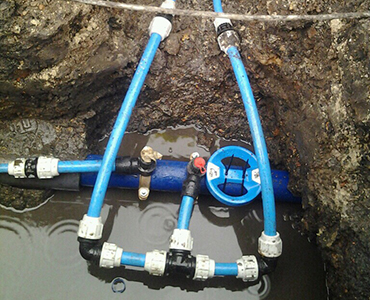 Working practice issues with service pipe connections such as ferrules being attached too close together or excessive push-fit joints can be measured accurately and targeted for improvement to drive down background leakage
The benefits of the OXEMS System start right from the very first OXEMS Tag deployment:
Exact re-location of 'points of interest' on assets means absolute intervention precision Quicker, less disruptive, more cost-efficient street works
Less carbon emissions through reduced spoil handling and standing traffic
Photographic and text information reduces the likelihood of accidental strikes
Better Health & Safety outcomes
Improved job performance and quality assurance
Zero background leakage becomes a realistic goal
Highlight comparative work outcomes and repeat-visit black spots
Clarify and monitor training requirements
Put valuable information at the fingertips of planning teams and asset managers
Build an ever more comprehensive picture of your underground network, creating a strategic asset in its own right
Tagging invisibles
The OXEM System links physical OXEMS Tags in the ground in 3D to digital points in the cloud then allows you to automatically add information in whatever format is required to enable accurate asset management and ensure 100 per cent precision re-location in all conditions throughout the life of the asset. Automatically linked photographs mean assets become visible to all who need to know including third party assets in the same location.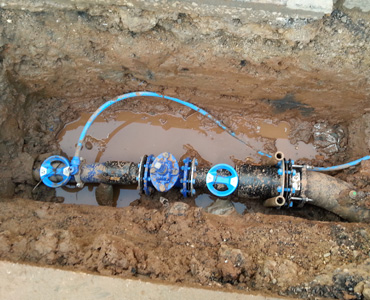 Knowing precisely where ferrule connections and service pipes are in relation to other asset infrastructure gives contractors real visibility of assets before they dig helping drive down costs and improve customer satisfaction
It can be tempting to assume that a GNSS (Global Navigation Satellite System) solves the challenge of re-locating a specific point on a buried asset; that it will enable you to log the co-ordinates of a point of interest and use that digital address ever after. Whilst these systems are remarkable, they can never guarantee exact re-location of points in the ground. They get close but, in the subterranean maze beneath our feet, 'close' is not good enough. All too often, it translates into the large holes and accidental strikes that cause extra costs for utilities, and chaos and cost for customers and local economies.
The OXEMS System tackles the challenge differently. By linking physical points in the ground to digital points in the cloud our integrated solution ensures absolute accuracy. The physical points are created by OXEMS Tags that, although attachable in just a few seconds, have an operational life of over 100 years in whatever ground conditions they are deployed.
The outcome of the OXEMS System is assured Smart Asset Management of underground assets where real points on buried assets (precisely identified and identifiable in three dimensions) are 'anchored' to any amount of related photographic and critical data, instantly accessible from the cloud-based database.
Subsurface intelligence
The OXEMS System allows you to automatically record and link photographs and other critical data to specific points of interest. You can then use this information to manage assets more efficiently, to drive up quality of workmanship, and to improve procedures and processes. By linking the OXEMS System to your existing enterprise systems you can go further and enable real time context sensitive information including maintenance history and job management to be made available to those who need it. All of which will help achieve rapid ROI.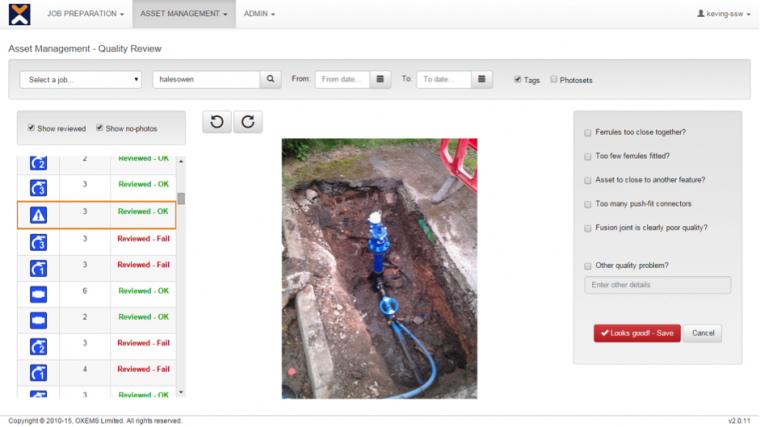 The quality review feature within the OXEMS Database means utilities can record and monitor quality of workmanship and established working practices with objectivity to drive significant asset performance improvements over time
Digging up roads to repair and maintain assets is expensive for utilities and disruptive for communities. According to 2010 estimates, over seven square miles of tarmac are dug up each year in London alone, punching a £750 million hole in the local economy every year. Worse, an estimated 80 per cent of reinstatement work is reckoned to be substandard, leading to a seemingly never-ending cycle of disruption. Project those figures nationwide, and the potential benefits of the OXEMS System – which enables pinpoint knowledge of asset locations and configurations – are clear.
The OXEMS System transforms the economics of underground asset management for utilities and contractors. Integrating OXEMS Tags, Detectors and a powerful cloud based database into a single tool, allows utilities to register and revisit all their buried assets with total precision. And the OXEMS App provides a 360° view of all of the map, photographic and text information associated with specific tagged assets, and the aggregated information that builds into a comprehensive asset management tool. 'Blind digging' is replaced with targeted, quality-auditable keyhole interventions that enable sub-surface infrastructures to be managed efficiently and safely.
Asset revelation
The OXEMS System is all about being able to visualise buried assets before you dig, whether they are your own assets or third party assets. Pinpoint accuracy (and the confidence that comes with it) means less disruption, fewer accidental strikes and a smaller carbon footprint. It all means that OXEMS streets are safer, quieter places to live and grow businesses, with major cost-reduction and social benefits as well as less risk of accidents and injury. It all adds up to an improved quality of life, and improved productivity for communities.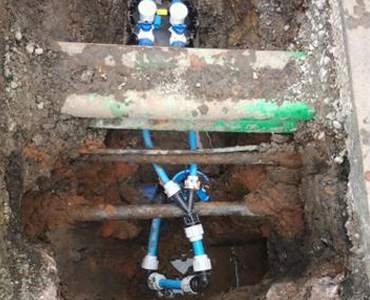 Accurate visibility of everything in the ground, not just the target asset, is essential to the contractor to avoid unnecessary accidents and costs. The photographs taken (and automatically linked to tags) of assets buried on the OXEMS Database reveal not just those assets but all the other assets in the same hole.
Full map and photographic visibility is available today as you walk down the street but we will shortly be trialling an augmented reality presentation of this information on the OXEMS App designed to provide even better understanding of these critical assets beneath our feet. All working to unfold the underworld.