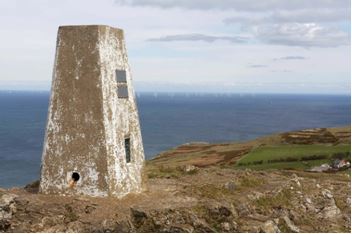 Triggering a New Approach to Underground Asset Management
Back in 1936 The Ordnance Survey set about mapping Great Britain and, realizing the need for accurate reference points, erected Trig Points across the entire land.
Highly accuracte mapping
Standing at a trig point on a clear day one could see at least two other triangulation or trig points. The concrete pillars have remained exactly where they were put all those years ago. Constant and immovable reference points that pinned printed maps to the real world. Careful measurements of the angles between the lines-of-sight of the other trig points allowed the construction of a system of triangles which could then be referenced back to a single baseline to construct a highly accurate measurement system that covered the entire country.
Simple and robust
It was a brilliantly simple and robust solution. There was none of the mapping variance we encounter today brought by atmospheric conditions, satellite movement and differing systems. We all knew where everything was. Imagine if we could construct a highly accurate measurement system to cover the entire underground asset infrastructure across the nation. Well, that is what OXEMS is able to do by physically marking all the underground assets we can attach our tags to.
GPS mapping variance
Utility companies that are not yet using OXEMS technology have to rely entirely on GPS coordinates and digital mapping techniques. They will have surveyors go around with expensive equipment in order to improve GPS accuracy, but they will have to set up temporary base stations in the area. Unfortunately, however, these electronic versions of the OS trig points cannot remain there. To find the same place again next week, month or in a few years' time means setting up the base stations all over again.
The best of both
Physical tagging of assets brings a clear advantage. Each Tag becomes a pin on a map. A real physical pin not a virtual GPS/GIS pin. Tags act like Trig points – the places where the real world and digital maps, or even printed as-laid drawings, connect. The more Tags there are, the more pins there are stitching the virtual and real worlds infallibly together.
Using the OXEMS System, utility companies can use standard GPS to get 'near enough' to an asset and then switch to OXEMS to get a super-accurate fix on the asset as well as identify it at the same time.
As OXEMS maps the subsurface landscape with tags, I feel a real affinity with those OS teams who mapped the surface landscape all those years ago as they constructed a highly accurate measurement system that covered the entire country.
And do join our LinkedIn discussion group at Asset Tagging: Revolutionising the Way Utilities Operate